BRICS STI meetings took place in Campinas, Brazil
---
25 September 2019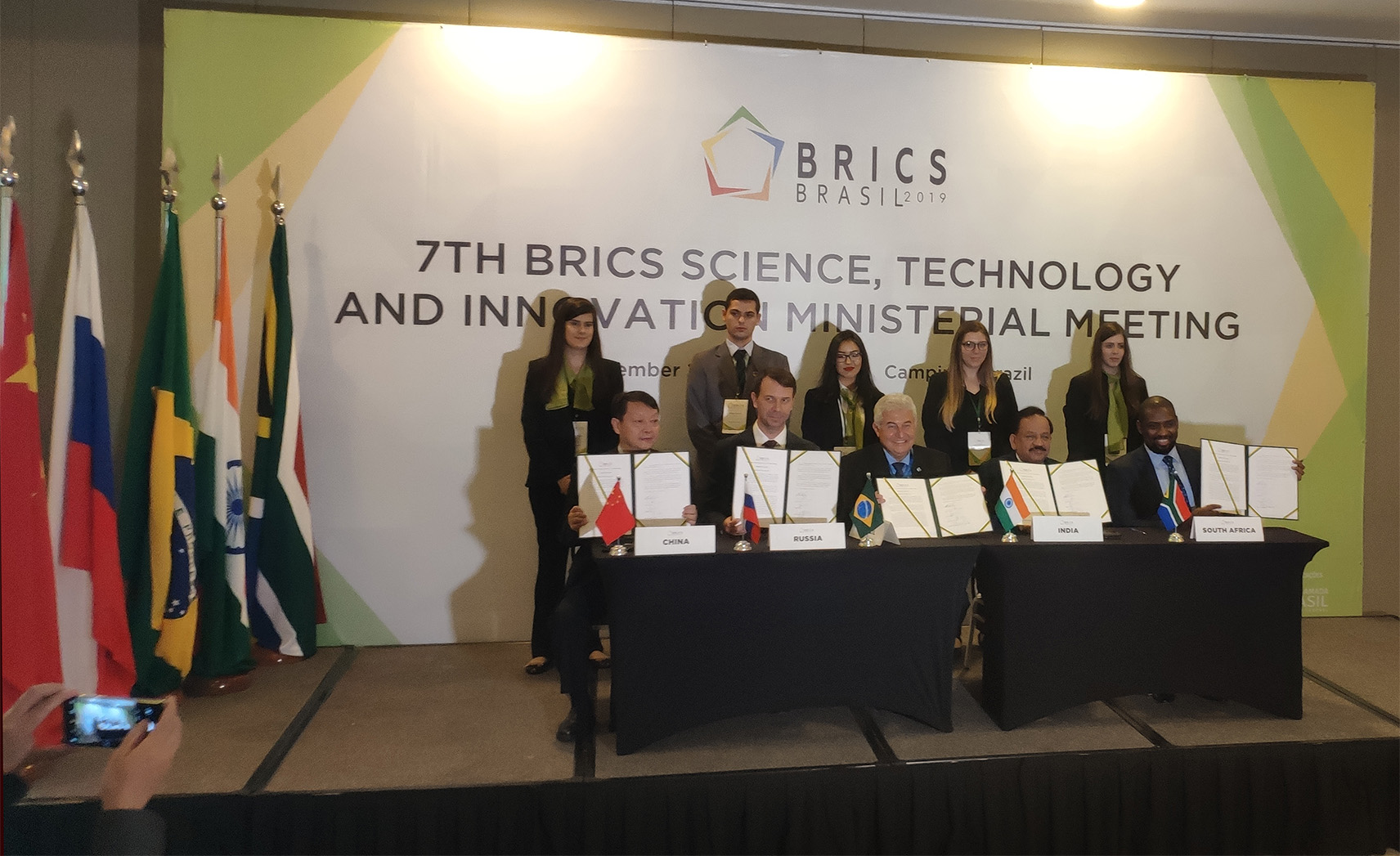 On 16-20 September 2019 several BRICS STI meetings aimed at fostering BRICS STI cooperation took place in Campinas, Brazil.


On 16-17 September 2019 BRICS WG for STI funding met for the 5th time to discuss implementation of BRICS STI Framework Programme and deliver 3rd BRICS Call 2019 results. More than 30 projects have been selected as an outcome of the 3rd BRICS Call 2019 and are now to be approved by national funding agencies.


The interest to the BRICS STI Framework Program is rapidly increasing within BRICS scientific community since its foundation. It garners strength due to stable funding committed by all the five countries. The BRICS R&D projects have been most applied for in the fields of: material science including nanotechnology; biotechnology and biomedicine including human health and neuroscience; new and renewable energy, and energy efficiency. In the last years it has been possible to see the formation of a truly BRICS scientific identity with several thousand researchers involved in building the projects. However, during implementation of BRICS STI FP pilot phase (3 calls) some of the problems were phased that are in urgent need to be addressed. In order to improve the procedures for the next 5-year cycle of the BRICS STI FP implementation the meeting identified possible ways to address the existing challenges, such as: establishing a single deadline for all applicants; decreasing the number of non-eligible applications; decreasing amount of effort put by researchers in proposal preparation and others. The meeting emphasized the need for more active interaction between BRICS STI thematic working groups and the BRICS STI Funding Working Group.


Brazil, Russia and the BRICS STI FP Call Secretariat will prepare a concept note for more harmonized call implementation mechanism for the next BRICS STI FP cycle to be adopted at the 6th Meeting of the BRICS STI Funding Working Group to be held in Russia 2020.


On September 20, 2019 the 7th BRICS Science, Technology and Innovation Ministerial Meeting took place at the same venue.


Most important questions on fostering BRICS STI cooperation were discussed, including implementation of the 2nd phase of the BRICS STI Framework Programme. Yaroslav Sorokotyaga (RFBR, Russia) presented outcomes of the 3rd BRICS Call 2019 and reported to the meeting participants about the 5th BRICS STI Funding WG meeting and decisions taken to improve mechanism for the calls implementation.


The BRICS STI Ministers signed Campinas declaration annexed by BRICS STI Working Plan 2019-2022 and Calendar of events for 2019-2020.