BRICS Meetings on STI held in Durban, South Africa
---
07 August 2018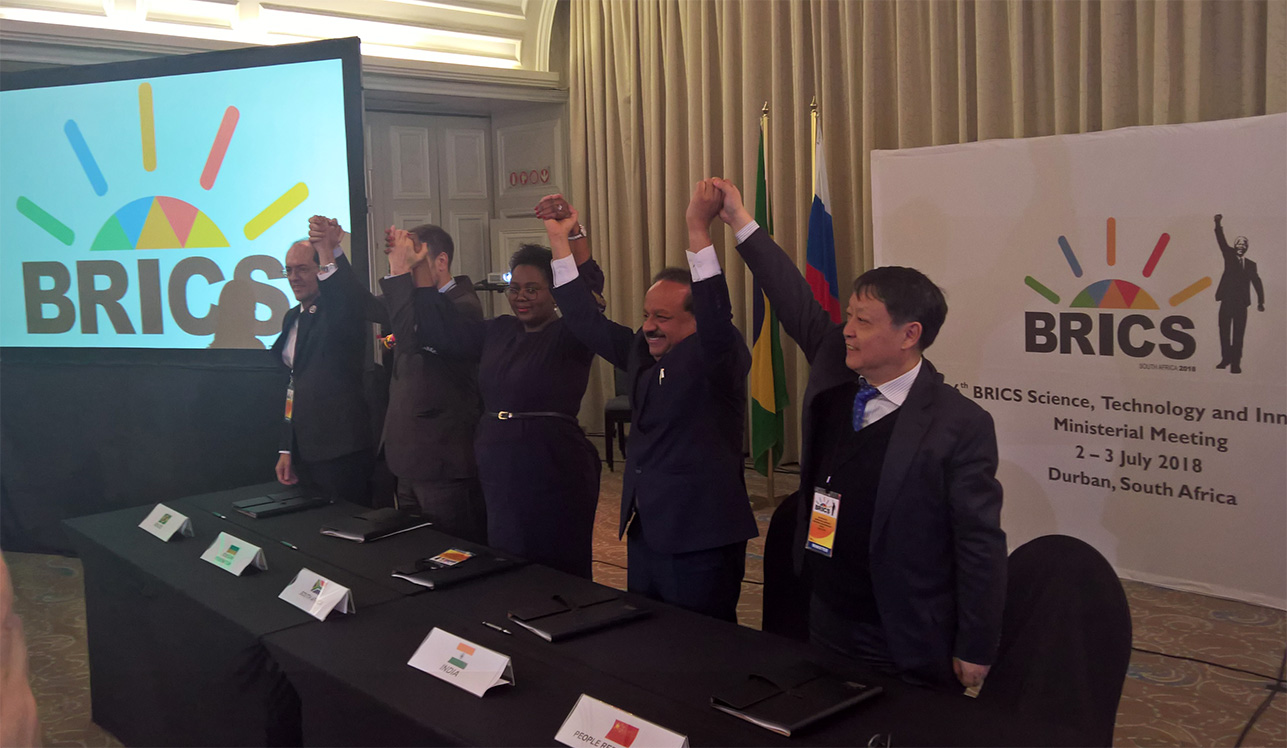 For two weeks the South African city of Durban became a center for BRICS science cooperation with a number of events concluded from 24 June to 03 July 2018.
The "science marathon" kick off was given by young talented researchers who came to Durban for the 3rd BRICS Young Scientist Forum (YSF) held from 24 to 29 June. The forum gathered few dozens of participants and included a number of new elements such as the BRICS Young Women in Science Dialogue, the BRICS Young Innovator Prize, the BRICS Youth Innovation and Entrepreneurship Workshop, and the BRICS Seminar on Science Diplomacy, Advice and Communication.
On June 30, 2018 the 4th BRICS STI Funding Working Group meeting took place in the city of Durban, gathering policy makers and representatives of the funding agencies from the BRICS member states.
The meeting mainly focused on developments of BRICS STI Framework Programme: delivery of BRICS STI FP 2nd Call 2017 results and outlining the 3rd BRICS Call 2018.
The 4th BRICS STI Funding Working Group meeting reviewed the outcomes of national evaluations for projects submitted in response to the 2nd BRICS Call 2017 and made recommendations on the list of projects to be selected. It is expected that all national approvals will be completed within a month after the meeting and call results should be published in August 2018.
The participants of the STI Funding Working Group meeting endorsed the launch of the 3rd BRICS STI FP Call 2018. It was agreed, that as a final step of the pilot phase for BRICS STI FP implementation, the 3rd BRICS Call should provide wide opportunities for BRICS research community and therefore 13 thematic areas are expected to be introduced for the upcoming call scheduled for launch in 4th quarter 2018. It is also expected that the component of support for innovation will be improved with new BRICS funding agencies joining BRICS STI FP for the 3rd BRICS Call 2018.
On 2-3 July 2018 the 8th BRICS Science, Technology and Innovation (STI) Senior Officials' meeting and 6th Ministerial meeting under the South African presidency in BRICS were held in Durban.
Noting the proposed theme of the 10th BRICS Summit "BRICS in Africa: Cooperation for Inclusive Growth and Shared Prosperity in the 4th Industrial Revolution" participants re-emphasised the importance of the Strategy for BRICS Economic Partnership which underscores the fundamental role of science, technology and innovation as key socio-economic change agents for global and regional progress, growth and stability.
Participants reviewed BRICS STI activities undergone for the past year of South African presidency in BRICS, including meetings of thematic working groups and proposals on establishment of new initiatives. Participants endorsed the BRICS STI Action Plan 2018-2019 and shortly after the meeting a work on drafting new BRICS Work Plan 2019-2022 should go underway.
The 4th BRICS YSF, 5th BRICS STI Funding WG, 8th BRICS STI Senior Officials' meeting and 7th Ministerial meeting will take place in 2019 in Brazil.